3 Day Bow Building Workshop

with Dave Mead
This Private Workshop Includes:
- All materials and tools needed
- Practice arrows and a target range
- 1 meal a day provided and water
- You will leave with a fully functional bow that you can effectively use
Create your own bamboo horse bow using raw materials and hand tools. The bow will be made to perform at its peak for your draw length. Each bow is unique and each person is unique. We will ensure that your bow will be made to such specifications that it will become and extension of you. It will be 3 days of intense bow building. You will learn all that you need to in order to use and care for your new bow. When you complete the bow, it will still require weeks of training and shooting to be fully broken in.
If you would like more than 3 days and/or would like to learn how to make arrows, a 4th day can be added at an additional charge.
$600 covers 3 full days of bow building.
Call or email to begin scheduling your workshop!
I require at least 1 month advanced notice to prepare materials for this workshop.
Don't have this much time available? Check out our 1 Day Kit Assembly Workshop or our DIY Kits! Or if you would like Mead Longbows to come to you instead, contact us for more information.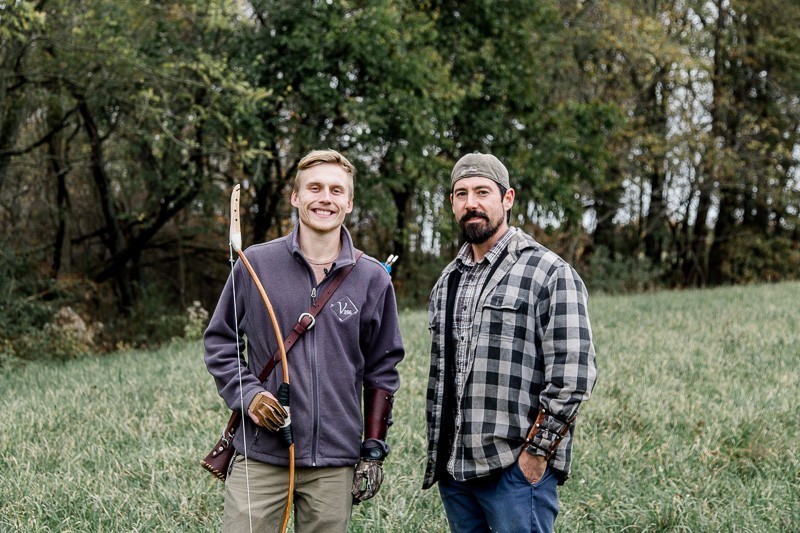 Upcoming Workshop/Event Schedule
Private/Semi-Private Workshops booked through April 2018
January 20th, 2018 - Delaware, Ohio
Survive To Thrive Workshops
April 5-8th, 2018 - Bethlehem, Kentucky
Presenter and Vendor at The Wild Outdoors Expo
"I have made many osage bows and hickory bows over the last 25 years from wood I harvested, cured and worked into a fine hunting weapon. I am not a newbie to put it one way. But was intrigued by composite bows and wanted to take a moment to shine some light on a class I recently took part in.

Dave Mead the "bamboo horse bow guy" is a master of his craft and as generous as they come. Spending one hour with him and you feel like you are standing still and have never made a bow in your life. First he sends you a course layout for you to study prior to your arrival. After arrival and some small talk, exploring his bows, sharing a couple of hunting stories, etc he gets right down to business. So when I said after an hour with him you are humbled it is because first you shoot some of his fire breathing bows then he builds (from scratch - chunks of wood and bamboo) a horse bow blank right in front of you. Then says now its your turn. I spent the next 8 hours learning from him how to do what he just did in 1. His shop is small, simple, but efficient with no fancy equipment and I respect that. His wood waste pile is enormous with bits and pieces of maple and bamboo (he calls it stove food) I would have to guess that he has made more bows in the last several months than I have or will most likely make my entire life. Its very humbling to say the least. When you realize how much time and thought he put into this design and the work that goes into just the kits he sells its pretty amazing he doesn't charge more. By the end of that day you have most of the bows shape/tiller worked out. Next day: Then he uses the one he built the previous day to show you how to final tiller and train the bow to begin to come to life. The shooting in or "training process" as he calls it begins. He explained this process goes on for days/weeks sometimes. All I can say is that this little bow feels like we are kin now.Its not like anything I have done before and incredible. They are like a fine tuned instrument. I won't share much more you will have to find out for yourself. It was a wonderful experience. Not sure how else to put it but this little unique bow is my favorite and I doubt any other can touch it for the value it holds. This is the fastest bow I own and I thank you Dave for sharing this with me."
P. Lawrence
Retired musician & woodworker
Nashville, TN