3 Day Bow Building Workshop

with Dave Mead
This Private Workshop Includes:
- All materials and tools needed
- Practice arrows and a target range
- 1 meal a day provided and water
- You will leave with a fully functional bow that you can effectively use
Create your own bamboo composite bow (recurve or horse bow) using raw materials and hand tools. The bow will be made to perform at its peak for your draw length. Each bow is unique and each person is unique. We will ensure that your bow will be made to such specifications that it will become and extension of you. It will be 3 days of intense bow building. You will learn all that you need to in order to use and care for your new bow. When you complete the bow, it will still require weeks of training and shooting to be fully broken in.
If you would like more than 3 days and/or would like to learn how to make arrows, a 4th and/or 5th day can be added at an additional charge. More days is best as you will leave with more knowledge, but 3 days is absolutely enough to complete the bow. 5 days offers bow, 1 arrow, and plenty of time for instinctive archery lessons with your new gear.

Workshop Prices:
3 Full Days $600
4 Full Days $800
5 Full Days $1,000
Call or email to begin scheduling your workshop!
I require at least 1 month advanced notice to prepare materials for this workshop.
Don't have this much time available? Check out our 1 Day Kit Assembly Workshop or our DIY Kits! Or if you would like Mead Longbows to come to you instead, contact us for more information.
*NEW* 1-Day Instinctive Archery Workshop -
Would you like to feel the reward of the true challenge of primitive archery? Learn to shoot a primitive or traditional style bow using instinctive archery. All equipment provided or bring your own!
$150 per person for private lesson or for a large group, discount rates apply. I can also come to you - contact us for more details.
Hourly sessions available for local clients, by appointment only. Brush up on your skills, prep for hunting, tune your bow/arrows.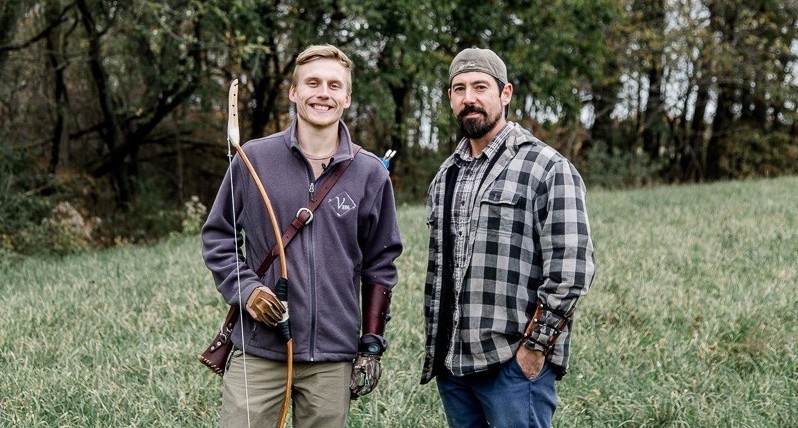 "I have made many osage bows and hickory bows over the last 25 years from wood I harvested, cured and worked into a fine hunting weapon. I am not a newbie to put it one way. But was intrigued by composite bows and wanted to take a moment to shine some light on a class I recently took part in.

Dave Mead the "bamboo horse bow guy" is a master of his craft and as generous as they come. Spending one hour with him and you feel like you are standing still and have never made a bow in your life. First he sends you a course layout for you to study prior to your arrival. After arrival and some small talk, exploring his bows, sharing a couple of hunting stories, etc he gets right down to business. So when I said after an hour with him you are humbled it is because first you shoot some of his fire breathing bows then he builds (from scratch - chunks of wood and bamboo) a horse bow blank right in front of you. Then says now its your turn. I spent the next 8 hours learning from him how to do what he just did in 1. His shop is small, simple, but efficient with no fancy equipment and I respect that. His wood waste pile is enormous with bits and pieces of maple and bamboo (he calls it stove food) I would have to guess that he has made more bows in the last several months than I have or will most likely make my entire life. Its very humbling to say the least. When you realize how much time and thought he put into this design and the work that goes into just the kits he sells its pretty amazing he doesn't charge more. By the end of that day you have most of the bows shape/tiller worked out. Next day: Then he uses the one he built the previous day to show you how to final tiller and train the bow to begin to come to life. The shooting in or "training process" as he calls it begins. He explained this process goes on for days/weeks sometimes. All I can say is that this little bow feels like we are kin now.Its not like anything I have done before and incredible. They are like a fine tuned instrument. I won't share much more you will have to find out for yourself. It was a wonderful experience. Not sure how else to put it but this little unique bow is my favorite and I doubt any other can touch it for the value it holds. This is the fastest bow I own and I thank you Dave for sharing this with me."
P. Lawrence
Retired musician & woodworker
Nashville, TN
Upcoming Workshop/Event Schedule
Booking now for July - December 2019 - limited spots available.
(If an earlier date becomes available and you would like to be notified, please contact us.)
November 24th 2018 - Jacksonville, FL
1 day Bamboo Bow Course with American Survival Co.
December 15th 2018 - Jacksonville, FL
1 day Bamboo Bow Course with American Survival Co.
January 26th 2019 - Jacksonville, FL
Build a bamboo Bow from Raw Materials with American Survival Co.
February 9th 2019 - NW Arkansas
1 day Bamboo Bow course with American Survival Co. and Mead Archery
February 24th 2019 - Jacksonville, FL
1 day Bamboo Bow course with American Survival Co.
March 9th 2019 - Jacksonville, FL
1 day Bamboo Bow course with American Survival Co.
June 3rd - 9th - Franklin, IN
A week with Dave Mead building the Composite Bow at Marc Adams School of Woodworking
"I chose Mead Longbows mainly because I'd developed a curiosity in working with bamboo. I started following Dave on social media, watched nearly all of his You Tube videos and became intrigued with his skill. I've been making primitive bows for years. I've researched, studied and have a good understanding of the craft, but Dave is unique. There's an organic appeal to his work, which to me reflects his character as a bowyer and as a man.
I decided on the three-day course because I didn't want to rush this. It was obvious from my research, that he had developed a good working knowledge with tried and true techniques. I wanted to soak up as much of that as I could, so I opted for the longer class. I'm self-taught. I have all the books, I've watched all the videos but I have never seen anyone work with bamboo, this is different than any other wood. I knew I needed a hands-on experience with a knowledgeable instructor to give me what I was looking for.
I arrived at his location, introductions were made and school was immediately in session. We talked for bit and discussed my background in bow building, helping David gain insight into my knowledge and skill. He then laid out a basic itinerary for the three-day course. Every minute aspect… Siyahs, handles and limbs were explained in a step-by-step approach, with detail. As we worked together, I found it especially helpful that he also worked on a bow as he instructed me. A few times, he had to take over my build just enough to correct mishaps and errors. The one thing that really stands out is the tillering process of the bamboo limbs; much different than wood/self bow tiller. That experience alone was worth the trip.
The end product is a beautiful, 45# @ 29-30" bamboo, horsebow that is light, extremely quick and accurate.
The whole experience has restored my passion for building. While it has always been a hobby, I mainly just enjoyed the aspects of working with wood. My time with Dave has broadened my view and deepened my understanding. Looking forward to returning for more instruction. I'm not only building as a hobby now. This course has given me the desire to hunt. Can't go wrong with this guy. Hands down, you get what you pay for and so much more."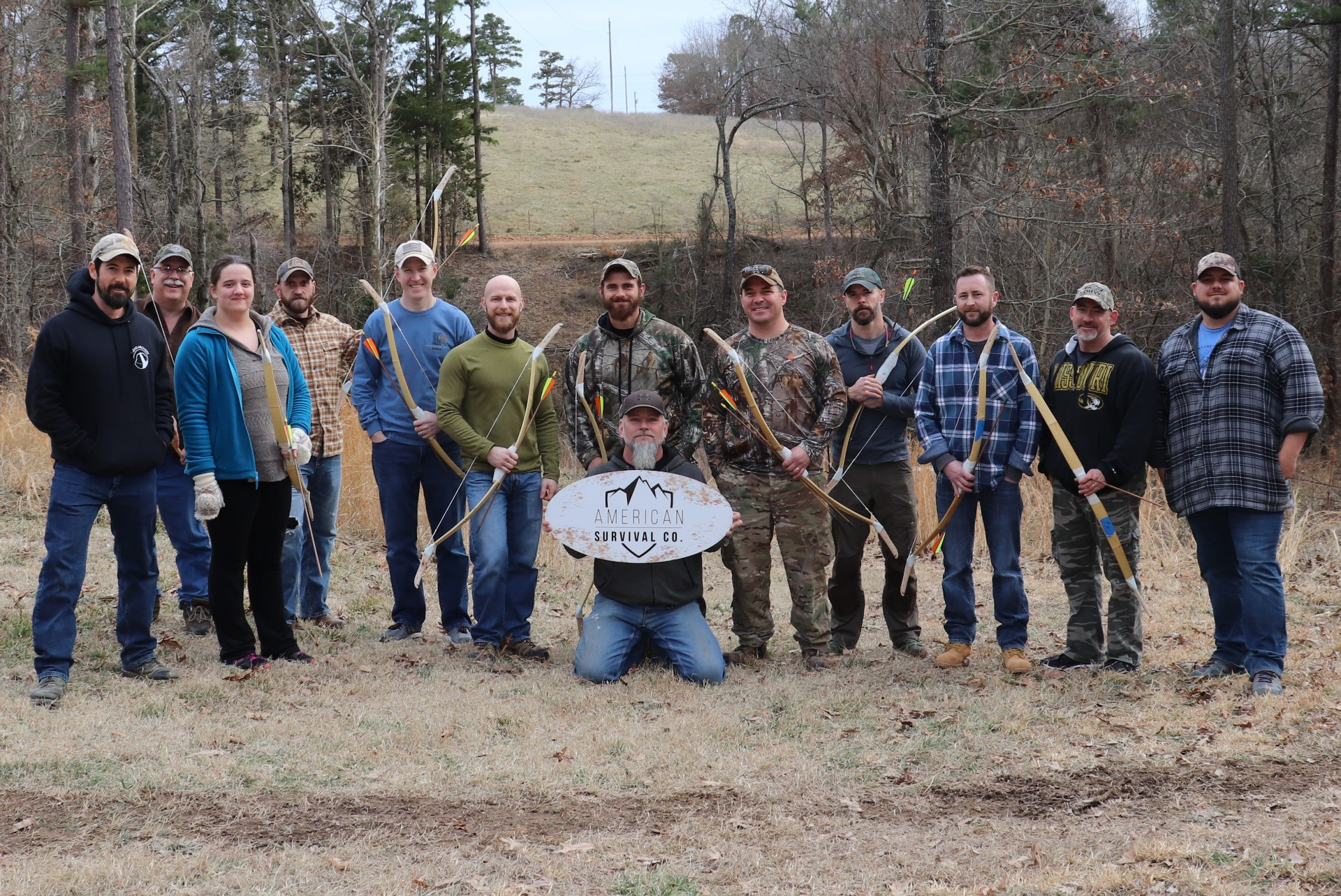 Recent Mead Archery bow building workshop hosted by American Survival Co. in Arkansas.